So I am the type of person that likes to help others. I want to unburden you. I love to get things done. I want all that we work on together to be a success. Some might call me a people pleaser. It is just the way I am. I can't help it.
I came across a Forbes article about client relationships that articulates how I feel about my client relationships, in fact, all my relationships. Here's my version:
Relationships take time. Taking the time to get to know you and your company is important to me and to the success of your project. To do a great job for you, I have to know what your goals are, the challenges you're facing, and what is needed to get the job done within the timeframe and budget you have set. By becoming a part of your team, going through the process, contributing as needed, we set out to accomplish the same goals.
I like to treat each client as the most important client. All my clients are important to me. I want to enjoy what I do, I want you to enjoy what you do. I want our relationship to be an enjoyable and effective one. If I can make you laugh, lend an ear on a bad day, say "yes" to that last minute request or resolve a big problem while creating something that helps your business grow, I am doing my job.
Being responsive and accommodating. You are busy, no doubt. I truly don't know what is going on during your work day. So if there is a way I can improve your day by taking care of something that comes up, I want to do that. (That's the people pleasing part.) Yes, there will be occasions where the ask might be too big. But if I can acknowledge it and provide a realistic solution, it goes a long way.
Be someone you can trust. More than anything, I want to "be more than an email address," What's important to me is respecting your time, building a relationship and genuinely caring about what you are doing. Email messages can be impersonal, taken the wrong way or just confusing with all the back and forth. Having a conversation in real-time can change things for the better every time. It is an opportunity to be human with another, to sense emotions and ask questions that lead to better listening. So if things seem messy and I take the time to call to clear things up, I hope you will appreciate my initiative and taking one more thing off your plate.
Gratitude
Lastly, I want to speak of gratitude. I am grateful for you.
Being a self-employed designer, I am always grateful for the work that comes my way, the lessons I learn and the opportunity to provide my skills and expertise to others. I am grateful that you share your stresses and problems, and that I have the privilege of being there to help you. I am grateful that you challenge me with tasks that might not be all that comfortable, in timeframes that seem (and sometimes are) impossible, and for your last minute requests (especially the ones on Fridays at 5 pm). Let's share those uncomfortable moments – then figure out the best way to get them done. I am grateful for those, who become my friends. We share laughs, we share deadlines and share the mistakes as well as success.
Most of all, I am honored that you trust me to take on your projects, rely on me to do them well and believe in me to help you reach your ultimate goals. With this year ending and a new one beginning, I look forward to growing and achieving with you for many years to come.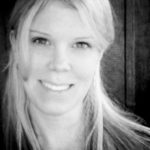 About the Author: Jillfrances Gray
I am a creative director and designer with 20+ years of experience helping clients innovate and execute their marketing initiatives. Services include brand strategy, brand identity, website design, graphic design, social media marketing, and email marketing. I am obsessively detailed oriented and have a passion for solid, stunning aesthetics. Plus, I've been told I am a lot of fun to work with.